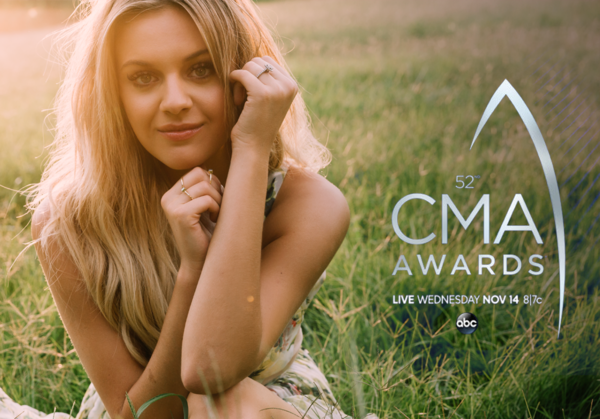 And just like that Country's biggest night is (almost) back! Following the final nominee reveal for this year's Country Music Association Awards, we freshened up our cowboy boots ready to root for some of our favorites during this much-anticipated evening. A big hats off to The Orchard family represented at the 52nd Annual Country Music Association awards.
One of country's newest voices, Kelsea Ballerini of Black River Entertainment, had a huge year with her sophomore release Unapologetically, peaking at #6 on the Billboard Top 200. In Kelsea's words, "You want to make the lyrics pop, and you want to make how you wrote the song translate, and sometimes that's a banjo and sometimes that's a beat drop. If the heart of the song gets across, I don't care which one it is." This summer has been jam packed for the songstress; making her way through late night TV, Good Morning America, and currently on the Graffiti U tour with Keith Urban. Following her first ever Grammy nomination, we applaud Kelsea for her Female Vocalist of the Year nomination at this year's CMA awards.
A big congrats to David Lee Murphy of Reviver Entertainment Group, who was nominated alongside Kenny Chesney under Music Event of the Year for their collaboration hit, "Everything's Gonna Be Alright." The track was recently certified gold by the RIAA for over 500K units sold, and counting.
So how are the CMA Award winners selected? The CMA Awards are voted on by members of the Country Music Association, made up of executives, songwriters, musicians, artists, and touring professionals. Selected by their peers in the industry, the winners are chosen after three rounds of voting.
Mark your calendars and don't forget to tune in to ABC Television Network on November 14 for the 52nd CMA Awards, hosted by Brad Paisley and Carrie Underwood.
See the full nominations list here and those partnered with The Orchard below:
Female Vocalist of the Year
Kelsea Ballerini (Black River Entertainment)
Musical Event of the Year
"Everything's Gonna Be Alright," David Lee Murphy (with Kenny Chesney)